News
*NEWS UPDATE * Coronavirus Fears Hit our Mobility Stores in North County San Diego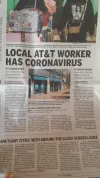 *UPDATE* MARCH 6TH 2020:
In case anyone heard reports about AT&T employees testing positive for coronavirus here is what we know.
We were afforded the opportunity to talk with the director of epidemiology at the San Diego Public Health Department today.  He informed us that the person who exhibited symptoms after traveling internationally was tested using a field test.  This test came up positive.  When the test is confirmed with the CDC then it will be classified as a confirmed diagnosis rather than a "presumptive" diagnosis.  Individuals who came in contact with that person are on 14 day self-quarantine.  No one in our local that we know of came in contact with the symptomatic person.  One person who came in contact with that symptomatic person visited 4 of our stores (the ones that were closed). Individuals who came in contact with that now self quarantined person have no chance of contracting the disease due to that encounter.  Deep cleaning is only needed at the location where the symptomatic person visited.
Yesterday, we were informed by local management that someone tested positive for COVID-19.  An AT&T assistant store manager who works at the Chula Vista location.  This manager came in contact with someone who then visited multiple stores, including 4 stores in the north county of San Diego.  It has not been confirmed if this manager came in direct contact with employees or customers.
AT&T Store off 1444 Mission Ave., Oceanside, CA 92054
AT&T Store off 133 S Las Posas Rd Ste 141, San Marcos, CA 92078
AT&T Store off 347 Vista Village Dr Suite 101, Vista, CA 92083
AT&T Store off  1201 E Valley Pkwy Suite C, Escondido, CA 92027
The listed stores were then closed down for cleaning. The concern is that the company decided to use its normal cleaning crew to do the cleaning.  We do not know how thorough the cleaning crew was, or if they followed the CDC recommendation.  The news we are receiving is that the store in Vista had direct contact with the person who tested positive with Covid-19.  The only steps to protect our employees is that they directed them to stay away from work on paid leave until the issue is resolved. 
The company is failing the community in these areas! The company is keeping there lips tight on informing the community on the reason the stores are closed.  AT&T must come up with a plan to inform and protect the community and its employees.  The company wants to keep this news silent but the community and employees deserve better. 
As we hear more information, we will inform you.
For now, if you feel sick or have any flu-type symptoms, such as:
Reported illnesses have ranged from mild symptoms to severe illness and death for confirmed coronavirus disease 2019 (COVID-19) cases.
The following symptoms may appear 2-14 days after exposure.*
Fever
Cough
Shortness of breath
Stay home and get tested for the virus.  We need to help not spread this virus throughout the community and our loved ones.  Any concerns or questions, please contact us at 760-743-4554 or contact your local steward.
In Unity,
CWA Local 9511 Leadership
CWA Local 9511 Golf Tournament