News
AFLAC is Here to Help our Union Members

To All CWA Local 9511 Union Members:
We are very excited to announce a partnership that we have with Aflac insurance to provide you benefits towards COVID-19 related illnesses and hospitalizations (and, of course, it covers much more than that). 
There are three separate CWA Union Group Insurance plans being offered - Accident, Critical Illness and Hospital Indemnity – design especially for Union members at prices lower than similar plans offered to the general public. Enroll in one, two or all three directly with an Aflac Benefits Counselor. Coverage is available for you and your eligible family members. 
You and your eligible family members can receive coverage on these policies starting as early as May 1, 2020. 
This is a virtual (COVID-19 friendly) introduction where you can meet with our Aflac benefits counselors from the comfort of your home, they will answer questions and give you an opportunity to sign up for the coverage of your choice.
What you do now:
Simply click the link below - this will take you to a calendar where you can choose a time and day that is most convenient for you.

 

You will then receive an email confirmation of the date and time.

For immediate assistance to enroll or ask questions regarding the plans and rates, please call Grace Passarella at 916-612-2455 or Jennifer Dann at 530-906-9387
Here is the link to schedule your 10-15 minute one-on-one appointment with an Aflac Benefit Counselor.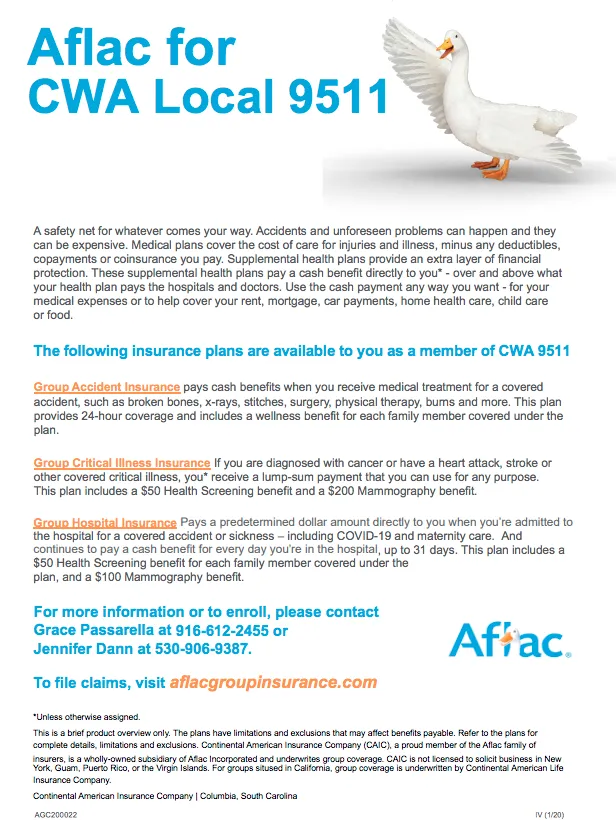 https://calendly.com/grace-65/cwa-local-9511-aflac-virtual-enrollment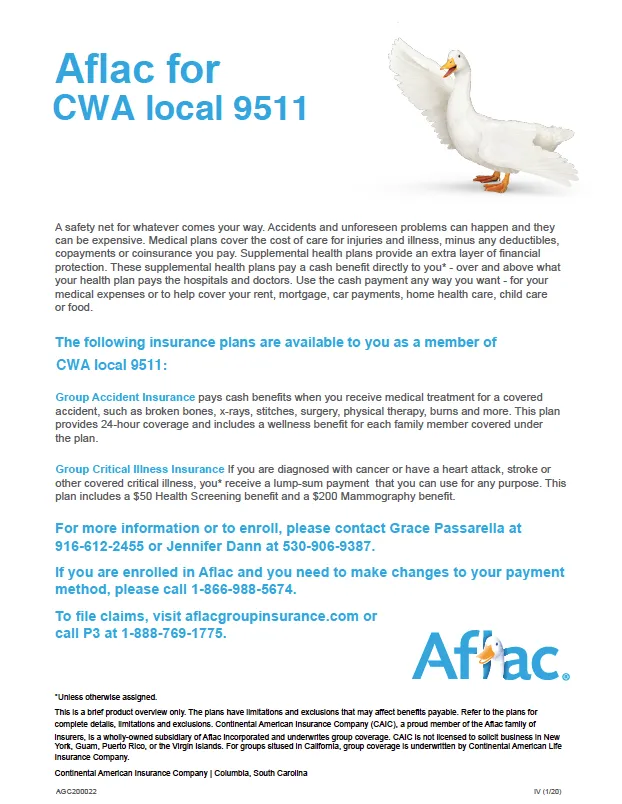 cwa_local_9511_-_marketing_2020.pdf
CWA Local 9511 Golf Tournament